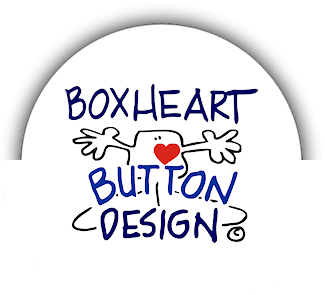 Online Ordering Options For Standard Button and Nametag Catalog Designs:
3" Button
2 ⅜" Button
3½" x2" Laminated tags
Pricing:
Pricing is for buttons or laminated tags only. This does not include name tag clips, lanyards, magnets, etc., these items are available as add-ons once your design is placed in the shopping cart.
1-8 @ $12.50 each
9-15 @ $11.50 each
16-25 @ $10.00 each
26-40 @ $9.00 each
41-55 @ $8.00 each
56-75 @ $6.50 each
Ordering more than 75 buttons? - Please contact Jonnie
Add-ons:
NEW! Add tracking to your order: $3.00
Clip for laminated tag: $1.00 each
Pin back for laminated tags: $.50 each
Lanyard: $2.00 each (blue or pink breakaway lanyards)
Very strong, wearable magnet: $2.00 each
Design/Color Change Fee: $5.00 each.
Some items can not be changed as they are printed. If you want specific coloring or changes in the design there is an additional fee. For many of the designs with multiple children, the children are multiracial and the designs can't be changed.
Favorite Colors? If I am able, I'll try to incorporate your favorite color. No promises. Sometimes a design is printed and I am not able to make the color changes."
Custom Buttons or Laminated Tags: $17.50 each.
Your ideas or mine come to life as lighthearted hand drawn and colored cartoon characters on personalized buttons or laminated tags.
Please send photographs and/or detailed information, ie. people or pets, animals , flags from countries or anything specific that will help me create your name tag or button. I do not want to make an error on your very special order. Email any pictures, photographs or important information to me: jonnie@boxheart.com AFTER you order online.
- unfortunately, there is no quantity discount for custom buttons or custom laminated tags -
Go here to purchase a custom button or laminated tag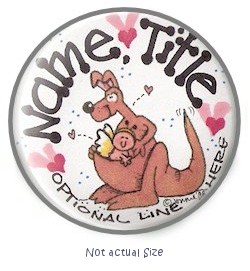 Shipping and Handling:
$5.00 for 1-8 items
$6.50 for 9-15 items
$10.00 for 16 and up items
Ordering more than 75 buttons? - Please contact Jonnie
Shipping prices subject to change
Although one-of-a-kind caricature buttons are our specialty, Boxheart Buttons offer just the right touch for:
Birthday Parties - a terrific gift for each guest
New Parents - commemorate a blessed event
Teachers - a big hit at Open Houses
Graduation - congratulate the graduate
Reunions/Seminars - personalized for each participant
Corporate Meetings - great for brainstorming sessions
Employee Gifts - one size fits all
Sales Representatives - unique customer ice-breaker
Pets - Spot, Rover, or Tabby immortalized
Hair Salons - a bit of fun and practical, too
Teams - a button for each squad member
Scouts - perfect for field trip identification
For the team button: "Your whimsical buttons were a real hit at our end-of-the-season party. Thanks!" C.J.B, Indiana
WARNING - Some of these product can expose you to chemicals, which are known in the State of California to cause cancer.
For more information go to www.P65Warnings.ca.gov