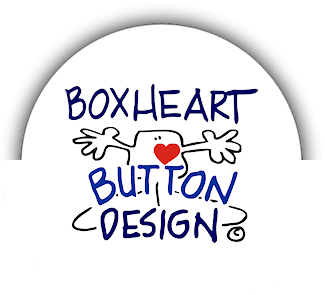 For Jonnie Walker-Rohs and her husband Paul, the catalyst for the start of Boxheart Button Design was their youngest daughter.
At 8 days old, she was diagnosed with bacterial meningitis. The doctors, nurses and staff in the Infectious Disease Unit at Children's Hospital in Columbus, Ohio pulled her and us through this unimaginably scary experience. Who would have thought that lifelong relationships with Boxheart Button Design customers would result from a very sick child, a borrowed button machine, a bit of cartooning ability and a desire to say a Special Thank You?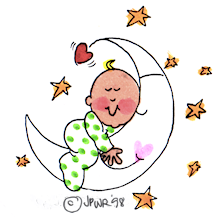 Our Baby is now 30+ years old. Recently, we and Boxheart Button Design have moved to the mountains of Western North Carolina. Over the years and several moves, I have made buttons and name tags in cars, hotels, while camping and in temporary quarters.
Through the chaos of daily life with husband, kids, parents , pets and now grandkids, buttons are a thread woven tightly through our lives. I have made wonderful friendships with so many customers. How fortunate I am for having an amazing business that moves easily and allows me to do what I love, draw and add a little colorful fun to peoples lives.
I give "Thanks" to my loyal customers for putting up with my antiquated ordering system of the past as I move into the 21st Century with my updated web site. I say "Welcome" to new customers, and I look forward to making buttons and badges for everyone!
From a medical professional: "The buttons are precious! The names and colors are just perfect. One of the transcriptionists wore hers to the beauty parlor after work. The owner simply went crazy over it and wants to order some for her cosmetologists..." K.C., Ohio